A dedicated and creative agency which offers you custom services to highlights your projects. Your success and satisfaction are our priorities !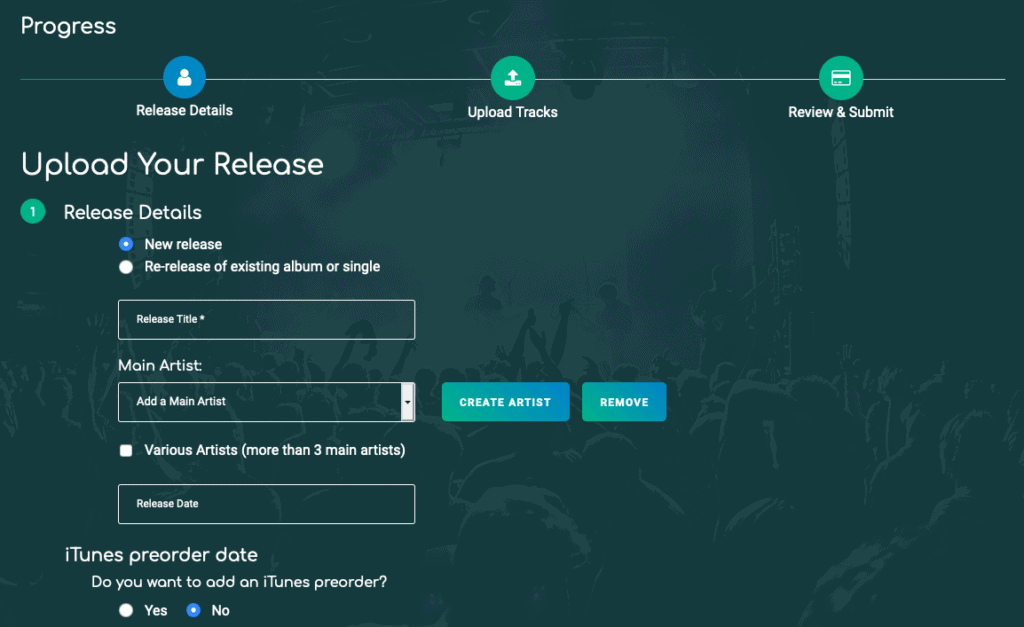 Select New Release if your album is planned or select Re-release if your album was already release
Enter the title of your release
Add your artist Name
Tick Various Artists if your release is a compilation Smith more than 3 main artists
Enter the release date
If your release date is at least 3 weeks after today, you can choose to add your album/single on iTunes preorder and select the preorder date.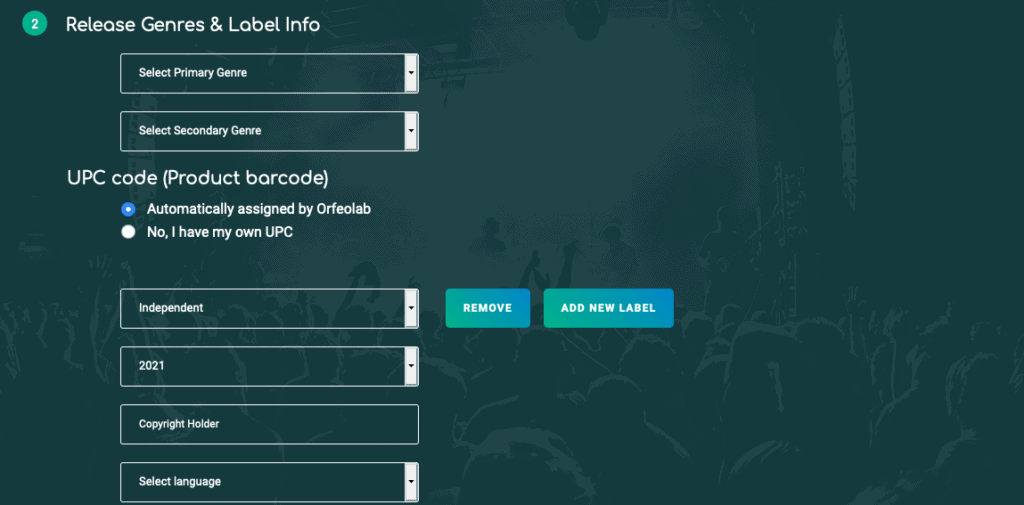 Select Primary and Secondary Genre
If you don't have UPC code, tick Automatically assigned by Orfeolab; if you have UPC code, tick No, I have my own UPC and enter it
Enter the name of your label or let independent if you don't have one
Enter the date of your release creation
Enter the name of the Copyright Holder e.g. your artist name or the name of the production company
Select the language of your release e.g.  if you sing in Spanish, choose Spanish ; if it's instrumental, choose instrumental

Upload your artwork : Name on artwork MUST match the release name, file format must be .jpg/.jpeg/.png in RGB color (not CMYK), file size must be no larger than 10Mb, image dimensions at least 3000 x 3000 pixels, and perfect square, art must not contain website addresses or social media links, do not upsize images as this will cause them to become blurry and my be rejected, contact us if you have problem to upload your artwork.
You can uncheck the service (s) on which you do not wish to appear in the event that your music is already distributed on a particular service, except in this case, we advise you to leave all the boxes checked.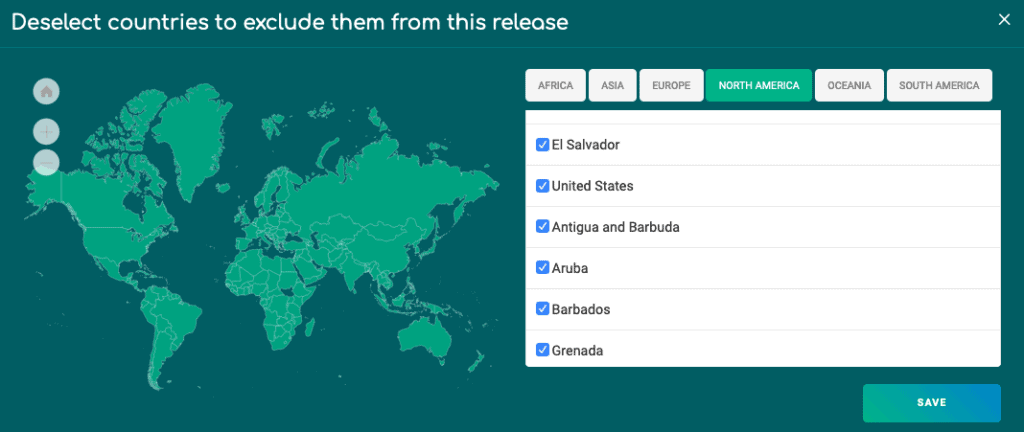 For the majority of independent artists, worldwide release will be the default option. we offer the option to select countries for distribution, which is used if you have signed a local label deal for a specific territory and need to exclude that from your distribution. 
For example, you have signed a label deal in USA only, you can use us to distribute to every country except USA (where your US label will distribute on your behalf). If you are wholly independent, keep worldwide option selected.
I you choose No, I need to select countries, please deselect countries by clinking on select territories and deselect countries you want to exclude from this release
Click on Save and Upload tracks on the bottom right of page to go to the next step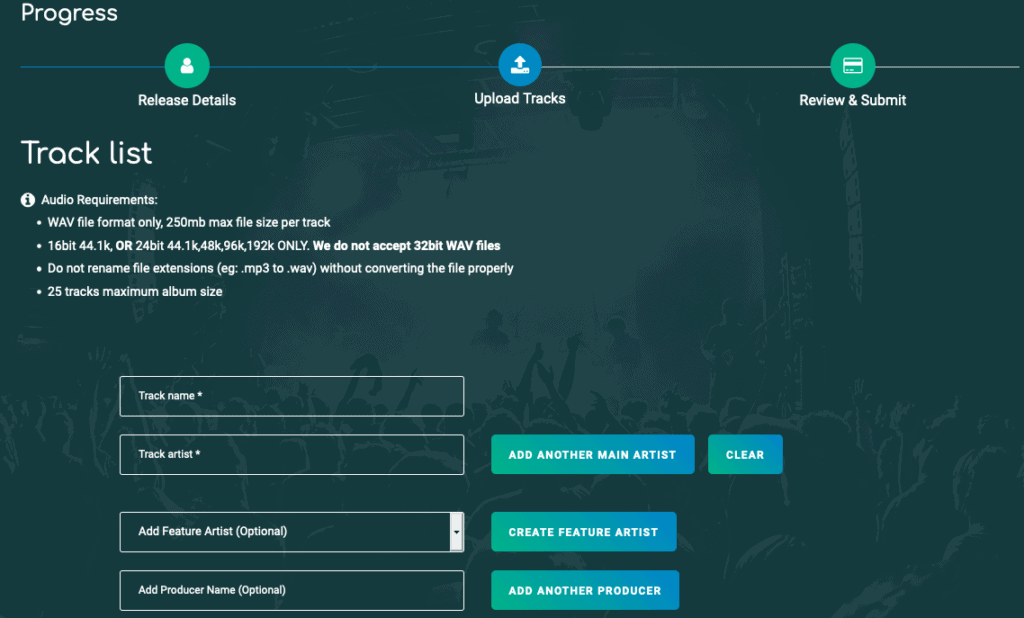 Add the track name and the track artist if different of the Main Artist or add feature artist or producer name (optional)

Choose This is an original song or This is a cover song
For assign ISRC code for this track, choose yes except if you want to transfer your release from another distributor (please consult the "transfer your release" section)
If you choose No, I already have an ISRC for this track, add your ISRC code
If your song contains "explicit" lyrics (vulgar language (one word is already enough);
references to violence, physical or mental abuse;
references to sexual behavior;
discriminatory language …) tick the box
Click on Save & Add new track.

A table will appear at the top of the page
Upload your audio file by clicking on Upload.wav
Audio requirements : WAV file format only, 250Mb max file size per track, 16 bit 44,1k or 24 bit, 44,1k, 48k, 96k, 192k only, We do not accept 32 bit WAV files; please do not rename file extensions without converting the file properly ; 25 tracks maximum album size

Renew the operation for each tracks
And click on "Submit Album" on the bottom right of the page to go to the next step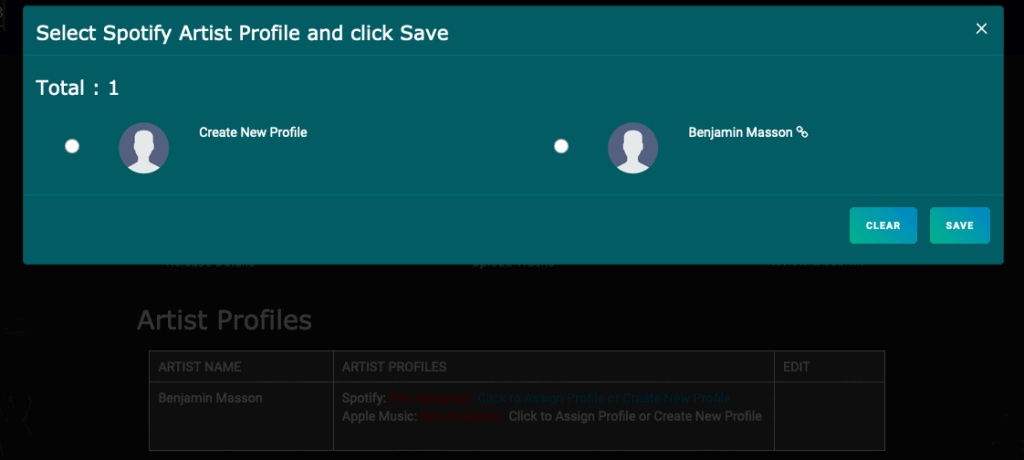 You have the possibility to add your release to your artist profiles on Spotify and Apple Music :
Click on "Click to Assign Profile or Create New Profile" On the pop-up window, click on create new profile or on the profile of your artist name. Click on Save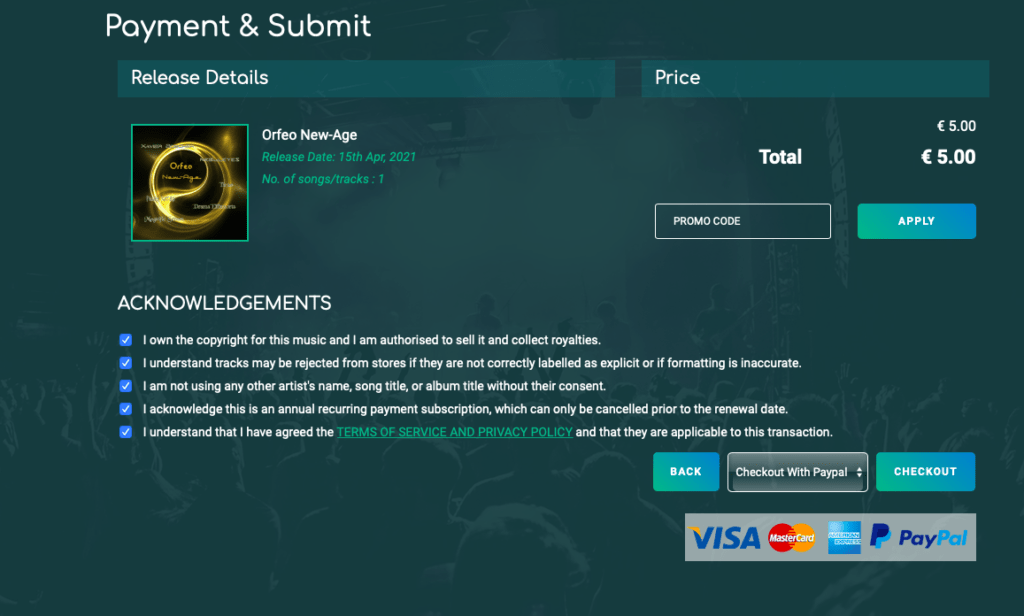 Last step, enter your promo code if you have on, and tick on the five cases after read the terms of service and privacy policy, choose your type of payment then click on "Checkout".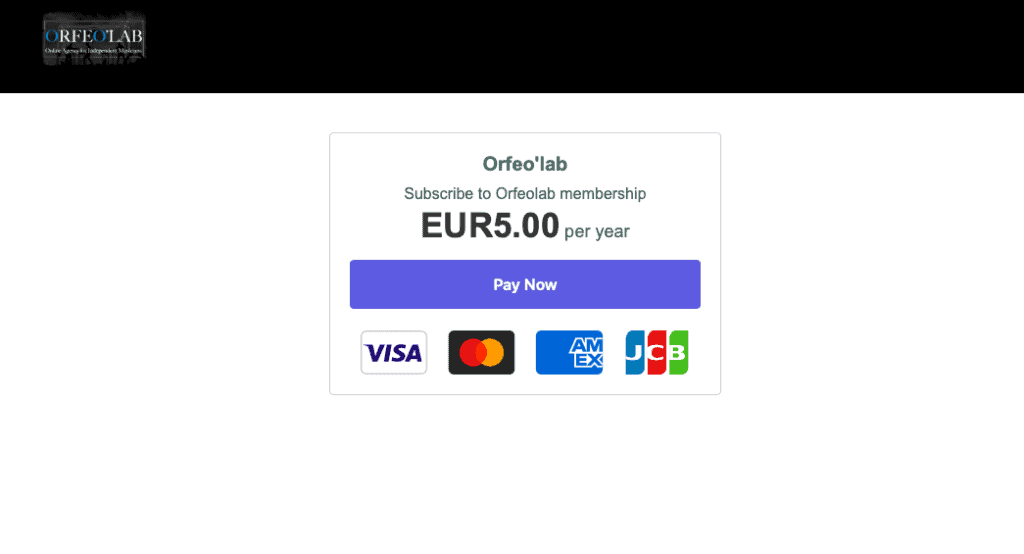 If you choose "Paypal", connect to your PayPal Account, if you choose "Credit Card", click on "Pay Now".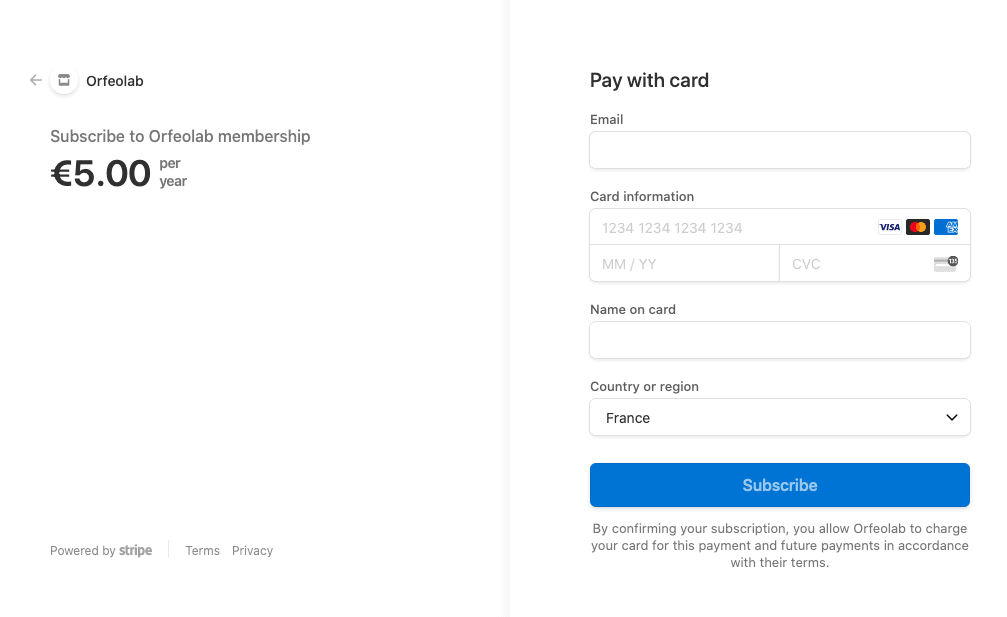 Enter your payment informations and click on "Subscribe"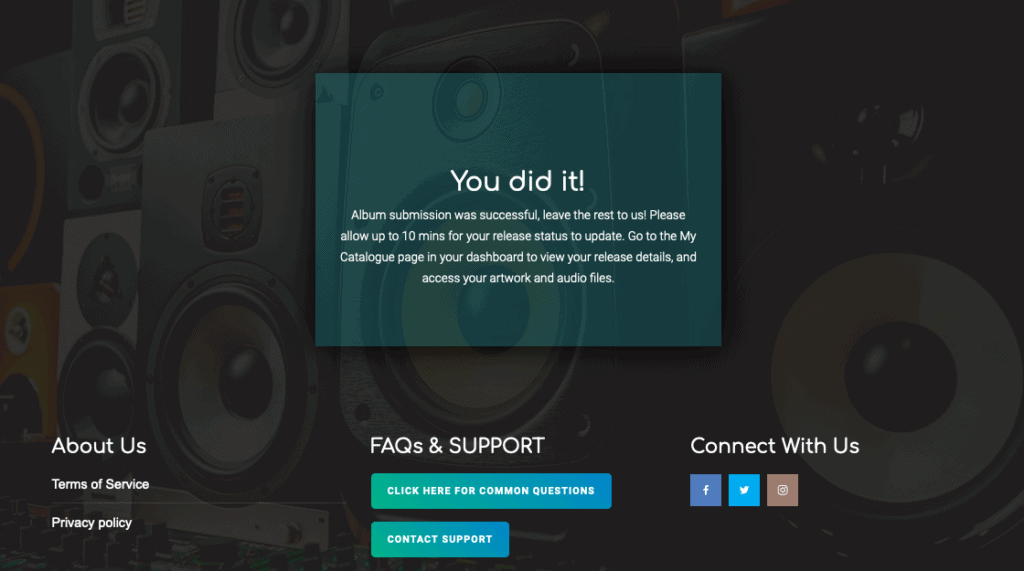 Everything is done, your release is on pending status, ready to be verified by our support before delivery to platforms